Social Media Marketing Course in Lucknow
Our SMM course is curated by professionals having rich experience in Social Media Marketing. This course includes the ninja techniques & strategies used for extraordinary results.
30 days Practical Training Work on Live Projects Guaranteed Internship 3+ Specialized Certificates
Advance Social Media Marketing Course in Lucknow
Social Media Marketing has become an important marketing platform for every business. It creates an emotional connection with the customers along with establishing customer loyalty. Using proper Social Media Marketing strategies, businesses can establish their Brand, Products and can also increase their Sales.
This is the reason, the demand for competent Social Media Marketers is rising day by day. Every business, small or big needs to be visible on different Social Media Platforms. 
With our Advance Social Media Marketing Course you can start your career immediately after the completion of the SMM course. You can also become a Social Media Influencer and start your influencer journey.
Benefits of doing Advance Social Media Marketing Course from DigiSkolae?
Live Mentor-led Project-based SMM training
Placement assistance after Internship period
Guaranteed Internship after course completion
Work as a Freelancer or start your journey as Influencer
Career Opportunities in Social Media Marketing
Completing a Social Media Marketing course can open up several career opportunities in the field of digital marketing and advertising. Here are some of the roles you could consider pursuing after completing the SMM course:
Social Media Manager: Manage the social media presence of a company, including creating and executing a content strategy, managing paid advertising campaigns, and analyzing and reporting on the results. In India, the average salary of a social media manager is Approximately 4.0 LPA.
Social Media Strategist: Plan, execute, and manage paid social media advertising campaigns to reach specific target audiences. The average salary of a social media strategist is approximately 4.2 LPA.
Social Media Analyst: Use data to measure the success of social media campaigns, identify trends, and make recommendations for future campaigns. The starting salary of a social media analyst in India is approximately 3.4 LPA
With the continued growth of social media and the increasing importance of digital marketing, there is a high demand for professionals in this field. Social Media Marketing has become one of the most demanding career opportunities in Digital Marketing.
What You will learn in the most Practical Social Media Marketing Course in Lucknow
Advance SMM Course Details -
You will be mastering the following topics of Social Media Marketing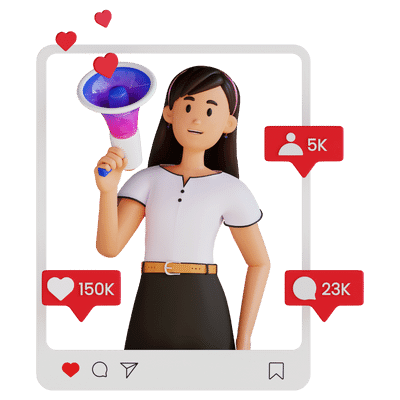 Best Social Media Marketing Institute in Lucknow
Lucknow, the city of Nawabs, has been experiencing a rapid growth in digital media and marketing. With an increasing number of businesses and startups looking to make a mark in the digital space, the demand for skilled social media professionals has skyrocketed. Our in-depth Social Media Marketing Training in Lucknow is the perfect platform for individuals looking to build a career in this field. With a combination of theory and practical training, you will be equipped with the latest tools, techniques, and strategies to excel in the digital marketing world. So, if you're a resident of Lucknow or looking to build your career in this exciting industry, join our advanced SMM course in Lucknow and kick-start your journey to success.
FAQ - Social Media Marketing Course
Some of the essential skills you need to start a career in social media marketing include excellent communication skills, creativity, knowledge of social media platforms, analytical skills, and a good understanding of marketing concepts.
Although you can find many of institutes in Lucknow offering Social Media Marketing courses but you need to choose a course wisely. The course should include in-depth practical training on various Social Media Platforms like Facebook, Instagram, LinkedIn, Twitter etc. with exposure to live projects. It should cover the strategies and tactics to grow an account organically and inorganically as well. At DigiSkolae we are offering a in-depth and most updated course in Social Media Marketing. 
The duration of our Advance Social Media Marketing course with placement is of 4 weeks. During this duration you will learn different social media platforms while working on live projects.
Excited to join our Social Media Marketing Course in Lucknow?