Digital Marketing Course in Kanpur
Looking to acquire Digital Marketing skills? Look no further! DigiSkolae now offers an unparalleled Advanced Digital Marketing Course in Kanpur. Expand your knowledge in Website Designing, SEO, PPC, Graphic Designing, Email Marketing, Freelancing, Affiliate Marketing, and many other relevant topics. Join us today and unlock your full potential in the world of digital marketing!
60+ In-depth Modules 5 Months Practical Training Mid-Course Internship 100% Placement Assistance 15+ Specialized Certificates
Launch Offer – Get Scholarship up to 50%
DigiSkolae now offers a highly valued Certificate in Digital Marketing by Alcheringa, IIT Guwahati, in association with HODM.
Master the Art of Digital Marketing - Join the best Digital Marketing Course in Kanpur
Welcome to Digiskolae's newest branch in Kanpur, where we offer comprehensive Digital Marketing courses to help you launch your career in the exciting world of digital marketing. Our Digital Marketing course in Kanpur is designed to equip you with the latest knowledge and skills in the industry, taught by experienced faculty members with a proven track record of success. Whether you're a fresh graduate, a working professional, or an aspiring entrepreneur, or a home-maker, our course is tailored to meet your needs and help you achieve your career goals. Join us at Digiskolae Kanpur branch and gain a competitive edge in the digital marketplace. 
What makes DigiSkolae the Best Digital Marketing Institute in Kanpur
At DigiSkolae, we take pride in being called the premier Digital Marketing Institute in Kanpur. What sets us apart is our firm commitment to providing the highest quality education and training to our students. Our experienced faculty brings a wealth of industry knowledge and expertise, ensuring that you receive the most up-to-date and relevant digital marketing skills. Our updated and advanced level curriculum covers all aspects of digital marketing, from website designing to SEO, PPC, graphic designing, email marketing, and much more. We also offer practical hands-on training, real-world projects, and mid-course internships to help you apply your knowledge practically. With our personalized approach and focus on individual growth, we ensure that you receive the attention and support you need to excel in your digital marketing career. Join us at DigiSkolae and experience the difference of learning from the best!
Students Review: Read what our Students say about our Digital Marketing Training in Kanpur
Curious about what our students have to say about our digital marketing training? Look no further! Our training programs have received rave reviews from our past students. They loved how in-depth and practical our training was, covering all the key aspects of digital marketing, from SEO to social media and email marketing. But don't just take our word for it, read on to hear directly from our students about their experience with our digital marketing training!
I am Sanjay and I have done a Digital marketing course from Digiskolae. I must say the way their trainer teach you is superb. I have got the best digital marketing training in Lucknow with the best digital marketing certifications along with placement. I recommend Digiskolae for doing digital marketing course in Lucknow. Thank you team Digiskolae.
Suchit Parashar
2023-08-19
Digiskolae is an outstanding digital marketing training institute in Lucknow. I recently completed their program, and I am extremely satisfied with the knowledge and skills I gained. The trainers at Digiskolae are experts in the field of digital marketing. They deliver the training with great enthusiasm and professionalism. Their ability to break down complex concepts into understandable terms is commendable. I felt engaged and motivated throughout the training sessions. The curriculum at Digiskolae is comprehensive, covering all the essential aspects of digital marketing such as SEO, social media marketing, content creation, and more. The practical exercises and hands-on projects provided valuable practical experience and helped me develop the necessary skills. The institute's infrastructure is well-maintained and equipped with the latest technology. The learning environment is conducive to focused study. Additionally, the support provided by the staff is exceptional. They are always available to answer questions and offer guidance. I am grateful for the placement assistance provided by Digiskolae. The team helped me prepare for interviews and connected me with relevant job opportunities. Thanks to their support, I was able to secure a job in the digital marketing industry shortly after completing the training. Overall, I highly recommend Digiskolae to anyone seeking quality digital marketing training in Lucknow. Their knowledgeable trainers, comprehensive curriculum, and excellent support make it the ideal institute for those looking to excel in this field.
Rashmi Srivastava
2023-08-11
I highly recommend DigiSkolae for the best digital marketing Institute in Lucknow. The vibe, the mentors specially Anurag Sir is the heart of the Institute. After completion of the course if any student need any kind of help they always like yes tell me, we are here to solve your any query. So if you looking the best digital marketing Institute in Lucknow, Go for it Guys. Don't think even a once. Keep growing, keep teaching the way you do. ❤
Wow! DigiSkolae's Digital Marketing Course in Lucknow is simply amazing! I learned so much – SEO, website designing, social media marketing, and more. The teachers were fantastic, and guess what? I even got to do a real internship! DigiSkolae made learning fun and boosted my confidence. Now, I can't wait to use my new skills to shine in my career. If you want the best digital marketing course in Lucknow, don't think twice – DigiSkolae is the place to be!
Kavita Chaurasiya
2023-07-30
I was really impressed with the quality of the training I received at Digiskolae. The curriculum was well-structured and the faculty were very knowledgeable. I also appreciated the hands-on training, which gave me the skills I need to start my own digital marketing business.
Digiskolae is offering the best digital marketing course in Lucknow. I personally recommend everyone to join this institute as the way they have helped me with the placement was superb. I have learned SEO, SMM, Website designing, affiliate marketing and many more core topics of digital marketing. I have also awarded with the best certifications from Alcheringa, IIT Guwahati and NSIC which is a government certificate. Digiskolae is best
ANIKET SRIVASTAVA
2023-07-12
The Institute offers the best in class digital marketing courses and the candidates which i get from here for my company are highly trained and professionals. They provide sustainable candidates who work for a long time and Mr Anurag has always been a great help and he always makes sure to shortlist and give the best of the best for our organisation.
Location of DigiSkolae's Kanpur Branch
Kanpur is one of the prominent industrial cities of Uttar Pradesh. Kanpur, also known as the "Manchester of North India" is a growing industrial city located in the state of Uttar Pradesh, India. With a rich history, Kanpur is renowned for its Cotton mills, Leather industries, distinctive cuisine, and warm hospitality. Kanpur is also home to numerous educational institutions, commercial centers, and recreational areas, offering a balanced blend of opportunities for work, study, and leisure. As the business segment is growing, lots of Digital Marketing job opportunities are coming up in Kanpur for students having appropriate Digital Marketing skills. From its iconic leather industry to its historical landmarks, such as the Kanpur Memorial Church and Allen Forest Zoo, Kanpur has something to offer for everyone. 
Curriculum of PPDM - Digital Marketing Course in Kanpur
Our professional level digital marketing course – PPDM is designed to provide you with an in-depth curriculum that covers various aspects of digital marketing. Our curriculum includes website designing, SEO (Search Engine Optimization), Social Media Marketing, PPC (Pay-Per-Click) ads, Email Marketing, Content Marketing, Freelancing, Affiliate Marketing, Blogging, and many more relevant topics. We believe in offering a well-rounded and practical learning experience that prepares our students to excel in the digital marketing industry. Upon successful completion of our course, we provide highly professional certificates that validate your skills and knowledge, giving you the confidence to pursue a successful career in digital marketing.
Empowering Success: DigiSkolae's Comprehensive 100% Placement Support
At DigiSkolae, we are committed to empowering the success of our students. That's why we offer comprehensive 100% placement support for our digital marketing course students in Kanpur. Our dedicated placement team works tirelessly to connect our students with reputed organizations, helping them kickstart their careers in the digital marketing industry. We provide assistance with resume building, interview preparation, job search strategies, and networking opportunities. Our strong industry connections and partnerships enable us to facilitate promising job placements for our students, ensuring they have the best chances of securing rewarding roles in the dynamic world of digital marketing.
Mid-Course Internship
Mid-course Digital Marketing internships offer real-world experience, networking opportunities, skill development, and enhancing employability to all our students.
Mock Interview Sessions
Mock interviews provide valuable practice, feedback, and confidence-building, helping to improve interview skills and increase success in real job interviews.
Resume Building Support
Resume building support provides guidance, feedback, and professional formatting, resulting in a polished resume that stands out to potential employers.
Campus Placement Drives
Campus placement drivesjob opportunities and offer direct job opportunities, convenient access to recruiters, and early job placement for students.
Success Stories of DigiSkolae's Digital Marketing Course Graduates
DigiSkolae's advanced level Digital Marketing Course in Kanpur has been a launching pad for numerous students who have embarked on successful careers in the digital marketing industry. Our alumni have found success in various roles such as digital marketing specialists, social media managers, SEO analysts, PPC campaign managers, email marketing executives, content marketing strategists, freelance digital marketers, affiliate marketing professionals, and many more. With our comprehensive curriculum, practical training, and industry-relevant skills, our students are well-equipped to excel in their chosen digital marketing careers. They have gone on to work with reputed organizations, start their own digital marketing agencies, or pursue freelance opportunities, showcasing the versatility and effectiveness of our course in preparing students for a bright future in the digital marketing field.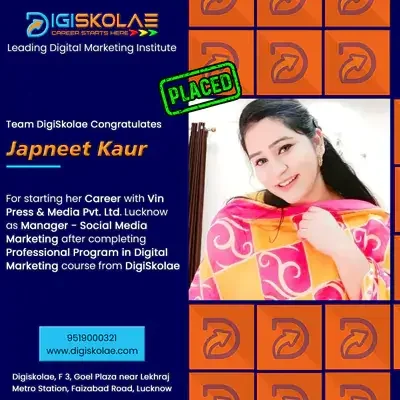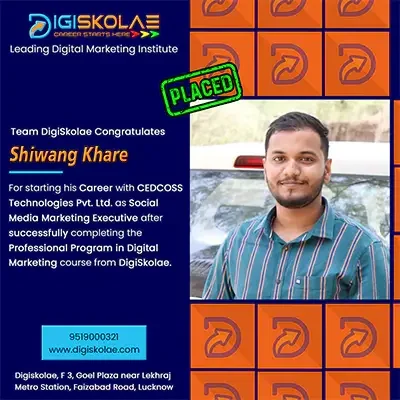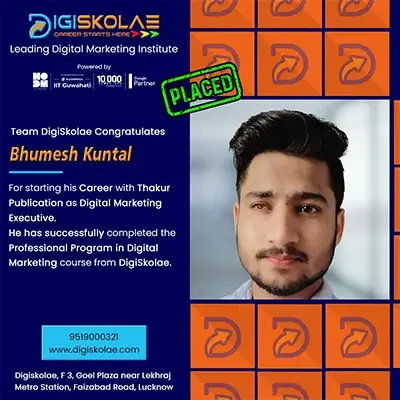 Another reason to join DigiSkolae – Top Rated Digital Marketing Institute in Kanpur
100% Money Back Guarantee 
We offer a 100% satisfaction guarantee on our Digital Marketing Training – If not satisfied, we refund your course fee.