Digital Marketing Institute In Lucknow
Benefits Of Joining DigiSkolae – Digital Marketing Institute in Lucknow
DigiSkolae offers a unique Digital Marketing Training Methodology by combining agency-based Practical training, Live Projects, Integrated internships, and regular Masterclasses by Industry Experts. We also provide 100% Placement Assistance to each and every student who successfully completes the Course.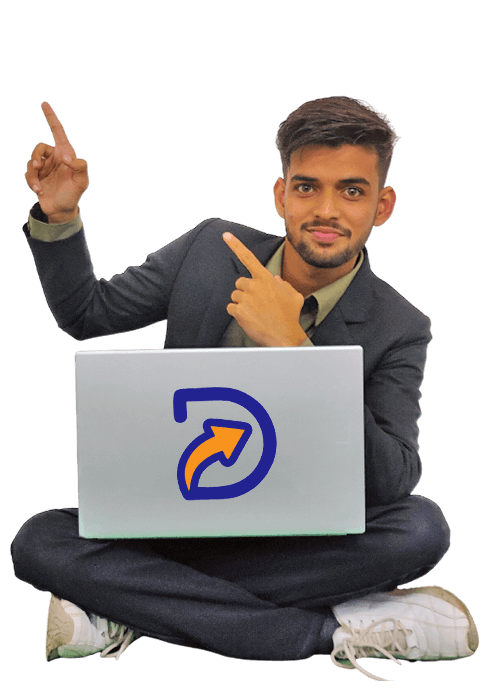 DigiSkolae is the first and only Digital Marketing Institute in Lucknow to offer a premium Certificate in Digital Marketing by Alcheringa, IIT Guwahati, in association with HODM.
About DigiSkolae - Digital Marketing Institute
Digiskolae offers the most robust and advance courses in Digital Marketing. We keep our students at the center of our curriculum, activities, and teaching-learning processes. Our dedicated approach to providing our students with the most practical training is what makes us stand out among all other Digital Marketing Institutes in Lucknow Indira Nagar. Our team of experienced Digital Marketers further makes us the best Digital Marketing training institute in Lucknow. Moreover, we strive hard to make our students financially independent and provide them with complete placement support with our Digital marketing Course in Lucknow.
DigiSkolae is managed by a team of professionals having experience of more than 24 years. They have guided, trained, and helped more than 10,000 students start their careers. DigiSkolae is located at Indira Nagar, which is easily accessible from any part of Lucknow.
DigiSkolae offers a highly valued Advance Digital Marketing Course in Lucknow Indira Nagar – Professional Program in Digital Marketing aligned with the requirement of the Digital Marketing Industry, along with many other career-oriented Digital Marketing courses. 
What makes DigiSkolae the Best Digital Marketing Institute in Lucknow
Undoubtedly, we are the finest Digital Marketing Institute in Lucknow. And there is not one but many reasons behind that. Be it our approach towards learning, the philosophy at the core of our curriculum, our faculty, or our infrastructure. Everything gives us an edge over any other digital marketing training institute in Lucknow. We offer Agency style learning methodology with live projects & Integrated Internship in our Digital Marketing Course in Lucknow. `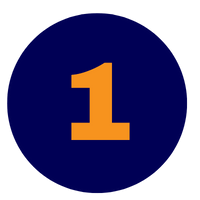 100% Practical based Agency style learning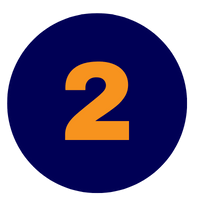 Different Expert Mentors for different topics.
Regular Masterclass by Industry Professionals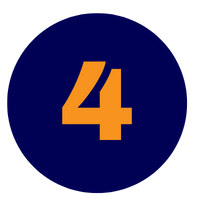 Life time support to all our students of DigiSkolae
Earn 15+ highly valued Digital marketing certifications
Placement Support for our Digital Marketing Students
We are making our tie-ups with the top IT start-ups, and small and medium IT companies. DigiSkolae is one of the leading digital marketing institute in Lucknow that guarantees placement support to its students. The rise of the IT sector in the past few years is witnessed by everyone. So, be it a start-up or an already well-established company, the IT sector keeps looking for hiring individuals. And even freshers get good salary packages. We not only focus on providing our students with the best digital marketing training experience but we also prepare them for interviews with our exclusive Interview preparation classes.
Our students have achieved great success after completing our Professional Program in Digital Marketing Course. They have been placed in various companies and industries, including tech startups, e-commerce businesses, and marketing agencies. They have taken on roles such as Social Media Marketing Managers, SEO executives, and Digital Marketing Executives etc. With the skills and knowledge they have gained in DigiSkolae, they are able to drive online growth for their companies and make an impact in the digital landscape. We are proud of their accomplishments and are confident that they will continue to excel in their careers. In-depth digital marketing training and prompt placements are among the core virtues of DigiSkolae – Digital Marketing Institute in Lucknow.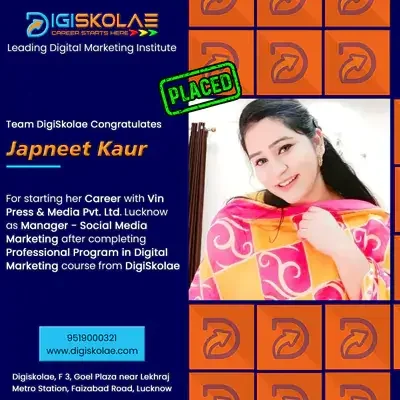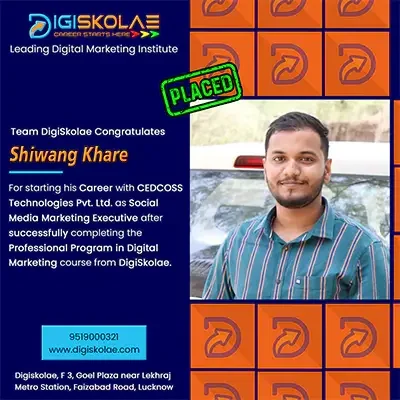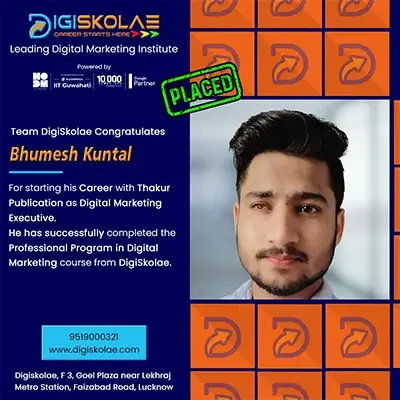 Why Choose Us As Your Preferred Learning Partner for
Digital Marketing Course In Lucknow?
Today, we are surrounded by digital technology. One could hardly name an activity that does not have a digital touch to it. Everything has become digitized from medical advancements to a teacher teaching inside a classroom.
Almost all businesses are using the digital mode for their promotions. Branding and marketing of any business are successfully carried on in the digital mode these days.
With years of digital marketing experience and after successfully establishing careers for thousand of aspirants in the digital marketing arena, we are here to offer the best Digital Marketing Course in Lucknow. Right from Digital Marketing Certifications to assisting in placements, we are well-equipped to deliver the best which would bring a remarkable change in your career trajectory. We assure you for the best Digital marketing Training in Lucknow. We are so confident on our Digital Marketing Training that we do offer 100% Money Back Guarantee. 
Digital Marketing Training
What Our Students Say About Our Digital Marketing Training in Lucknow
Best institute for digital marketing
Sachin Choudhary.07
2023-05-18
The best institution for digital marketing in Lucknow … also they are doing great in Kanpur and Gorakhpur…. Soon they will do more … the best placement institution during course …. Also gives the best opportunity to learn lifetime once you are the student here … . . . I love Digiskole 💙
This is one of the best Digital Marketing Institute in Lucknow
Digiskolae is a digital marketing training institute that offers a comprehensive course on digital marketing. The course is designed to provide students with a thorough understanding of all aspects of digital marketing, including search engine optimization (SEO), social media marketing, email marketing, content marketing, and more. The course is taught by experienced professionals who have extensive knowledge and practical experience in digital marketing. The curriculum is designed to be practical and hands-on, giving students the opportunity to apply what they have learned in real-world situations. One of the benefits of the Digiskolae digital marketing course is that it is designed for local businesses and entrepreneurs. The course focuses on teaching students how to create and implement effective digital marketing strategies that are tailored to the needs of local businesses. This makes the course highly relevant and valuable for those who are looking to promote their businesses in the local market. In addition to the comprehensive course material, Digiskolae also offers students access to a range of tools and resources that can help them to improve their digital marketing skills. These include online forums, webinars, and networking events, which provide students with the opportunity to connect with other professionals in the field and learn from their experiences. Overall, I would highly recommend Digiskolae for anyone looking to upskill in digital marketing. The course was engaging, informative, and practical, and the trainers were highly supportive and knowledgeable. I am confident that the skills I learned will help me in my future endeavors in digital marketing.
Ravi Chaudhary
2023-05-06
Best faculties
Shailendra Singh
2023-05-03
Digiskolae is a leading digital marketing institution based in Lucknow that offers a wide range of courses and training programs for individuals and businesses looking to enhance their digital marketing skills. Thank you Anurag sir for your guidance.
Sultan Arif Khan
2023-05-02
Best digital marketing Institute in lucknow they are providing best digital marketing course in lucknow with 100% placement
Jitendra Singh
2023-04-22
Best institute in Lucknow. Anurag sir is a good mentor.
Bhumesh Kuntal
2023-04-12
I recently enrolled in Digiskolae's digital marketing course and I am beyond impressed with the quality of education and the level of expertise of the instructors. The curriculum is well-designed and up-to-date with the latest industry trends. The instructors are knowledgeable, friendly, and always ready to help. I have learned so much and have already started applying what I have learned to my own business. If you're looking for a top-notch digital marketing institute in Lucknow, look no further than Digiskolae. I strongly recommend this institute to anyone who wants to gain a competitive edge in the digital marketing industry. Thank you, Digiskolae, for providing such a valuable learning experience!"
Benefits of Joining our Digital Marketing Course in Lucknow
The curriculum of our Digital marketing Course in Lucknow is based on robust research. Our research on the curriculum, training philosophies, and a future-proof approach is based on keen observations in the real world. So, we have a fresh approach toward digitalization and IT training. We are 'virtualizing' our students not with 'artificial' but with real-life intelligence. We believe that a professional digital marketing course must be backed by sufficient hands-on training. Therefore, you will be working on real-time digital marketing projects as an intern while learning from DigiSkolae. So, in this way, DigiSkolae brings you an 'on-the-job training' experience within the course duration. Our reputation as the leading digital marketing institute in Lucknow is due to the factors mentioned earlier.
Fresh Approach to Digital Marketing Training in Lucknow
One more reason to join DigiSkolae – the Finest Digital Marketing Institute in Lucknow
100% Money Back Guarantee 
If you are not satisfied with our Digital Marketing Training, we will refund your course fee
Our students will master these topics in our
Advance Digital Marketing Course In Lucknow
Join our Digital Marketing Course in Lucknow and Boost your Career Today
If you want to stay updated with the latest Digital Marketing trends and kickstart your Career, our Digital Marketing Course in Lucknow is perfect for you. Our course is carefully crafted to equip freshers, business owners, marketing professionals, and aspiring digital marketers with the necessary knowledge and skills to thrive in this industry. Our comprehensive Digital Marketing Curriculum covers the latest strategies and techniques like SEO, SMM, Website Designing, Email Marketing, Affiliate Marketing etc. used in digital marketing today. Our experienced mentors provide practical, hands-on training to help you apply your learning to real-world scenarios. Our curriculum itself makes us stand tall among any other Digital Marketing Institute in Lucknow.
Explore Lucknow's Best Digital Marketing Programs
Learn Digital Marketing from the top Digital Marketing Institute in Lucknow
Professional Program In Digital Marketing (PPDM)
Executive Program In Digital Marketing (EPDM)
Advance SEO & Analytics Course
Advance Social Media Marketing Course
Professional Program In Digital Marketing (PPDM)
PPDM is a full fledged Course in Digital Marketing consisting of 55+ advance modules of Digital Marketing consisting of Core to Advance Digital Marketing Topics. In this Advance Digital Marketing Course you will learn Graphic Designing, Website Designing, Advance Search Engine Optimization, Email Marketing, Google Ads, Social Media Optimization, Social Media Paid Ads, Content Marketing, Affiliate Marketing, Freelancing & many more. This course is aligned with the industries requirement. In this course students will learn from Core to Advance techniques of Digital marketing. After completing this course students will be awarded with Advance Certificate In Digital Marketing by DigiSkolae, Internship Certificate by renowned Digital Marketing Agencies & 15+ certificates by Google, Hubspot, Semrush etc . 
Students will undergo mandatory Internship training within the duration of the course resulting into direct Placements at the end of the course with various Companies and Digital Marketing agencies. For more details see Professional Program in Digital Marketing page
Executive Program In Digital Marketing (EPDM)
Advance SEO & Analytics Course
Advance Social Media Marketing Course
Career after Getting Certified as a Digital Marketing Expert: Where Digiskolae will Take You?
It is a no denying fact, that Digital Marketing is the most booming sector these days. In fact, the Digital Marketing sector was among the few sectors during the pandemic that was first to adapt to the Work from Home and Hybrid work models. Also, the Digital Marketing sector was the only one to experience nearly zero layoffs. In fact, thousands of vacancies in Digital Marketing came during the lockdown period hence increasing the demand for more digital marketing institute in Lucknow. And in addition to this, the start-ups are now supported not only by the Indian government but in abroad as well. Start-ups receive funding really easily. This start-up trend is increasing the requirement for skilled Digital Marketing professionals day by day.
So with such a high growth rate, marketing has also moved from flyers and television commercials to digital platforms increasing career opportunities in digital marketing. As Google has become the first advisor of people, it has become equally important for every business to market its products and services through Google. However, people tend to check only the first few search results on Google while looking for a particular service or product. Similarly, people love to spend time on Social media Platforms. These platforms have become the best way to promote a business or service.
So, the role of a digital marketing expert begins right here. As a digital marketing expert, one has to make sure that the company he works for always appears in the first 5 searches on the Google SERP along with good visibility and presence over different social media platforms. In Digiskolae, you will learn the rarest digital marketing techniques to excel in SEO, SMM, Email Marketing, Content Marketing, etc. And with the expertise gained during the Advance Digital marketing Course in Lucknow, we are sure that you will be able to crack all the interview rounds of big MNCs.
Digital Marketing Institute Near Me
then DigiSkolae could be your best choice to learn Digital Marketing. DigiSkolae is Located at Goel Plaza, Main Faizabad Road, Indira Nagar, Lucknow. If you are searching for a Digital Marketing Institute near me then DigiSkolae could be your preferred choice for doing a Digital Marketing course in Lucknow as our institute is located in heart of the city with connectivity from all parts of Lucknow. Students from Alambagh, Charbagh, Aliganj, Gomti nagar, Chowk, etc. can easily reach to our institute. Lekhraj Metro station is hardly 100 meters from our Digital Marketing Institute.  
FAQ - Digital Marketing Institute in Lucknow
Want to know more about the Digital Marketing Courses, Fees & Career Opportunities?