Your Search For Seo Course Ends Here…
Advance Seo Course In Lucknow
This Search Engine Optimization course is curated by keeping in mind the upgraded SEO techniques used in 2023. After completing Advance SEO Course in Lucknow students will be able to rank any kind of website on search engine result pages.
45 days Practical Training Work on Live Projects Guaranteed Internship 3+ Specialized Certificates
Advance SEO Course In Lucknow
What does the business want today? Skilled professionals who can bring their website to the top rank on search engine result pages organically to get maximum visibility. The requirement for SEO professionals are increasing day by day, and that what this Advance SEO course will transform you into.
With a focus on all the advance techniques required to rank a website, this 45 days Advance SEO course in Lucknow will equip you with Search Engine Optimization techniques and competencies through Live Mentor-led Classes, hands-on experience on tools in demand, and an opportunity to work on Live Project. Last but not the least, you will also get guaranteed Internship & Placement after completion of this course.
Benefits of doing Advance SEO Course from DigiSkolae?
Live Mentor-led Project-based SEO training
Placement assistance after Internship period
Guaranteed paid Internship after course completion
Work as a freelancer and do International Projects
What You will learn in this SEO Course in Lucknow
In this Advance level SEO Course, you will be mentored by professionals having rich experience in Search Engine Optimization. They have several years of experience doing International & National SEO projects. You will learn On-Page SEO, Off-Page SEO, Local SEO & Technical SEO by working on Live Projects. Using different tools, you will also learn to do an SEO audit for a website. After completing the #1 SEO course in Lucknow, You can start your Career as an SEO Analyst or you can also start working as a Freelancer.   
Advance SEO Course Details -
You will be mastering the following topics of Search Engine Optimization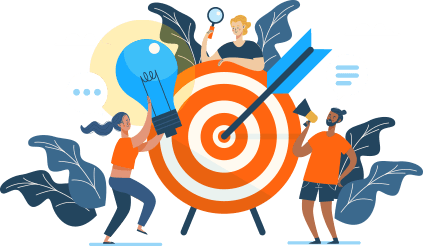 Career Opportunities in Search Engine Optimization
There are several career opportunities available to individuals who have completed a course in Search Engine Optimization (SEO). Some of these include:
SEO Specialist: An SEO specialist is responsible for optimizing websites to rank higher in search engine results and increase organic traffic. They use various techniques, such as keyword research, link building, and on-page optimization, to improve a website's search engine visibility. The average salary of an SEO specialist in India is approx 3.6 LPA
Content Marketer: Content marketers create and publish content to attract and engage audiences, and ultimately drive profitable customer action. They use SEO best practices to ensure their content is discoverable by search engines and relevant to target audiences.
Digital Marketing Manager: Digital marketing managers are responsible for overseeing a company's online marketing strategy, including SEO. They work closely with SEO specialists to develop and execute campaigns that drive traffic, leads, and sales.
Best SEO Institute In Lucknow
Lucknow is a vibrant city in northern India, known for its rich cultural heritage, exquisite cuisine, famous landmarks and growing businesses. As the capital of the state of Uttar Pradesh, Lucknow has become a hub for various industries, including the booming field of digital marketing. In recent years, there has been a surge in the demand for search engine optimization professionals in Lucknow as businesses seek to increase their online visibility and drive traffic to their websites.
Lucknow has become an ideal destination for aspiring digital marketers to learn and grow their skills. Whether you're a beginner or an experienced professional, there is no better time to enroll in an SEO course in Lucknow and take advantage of the city's thriving digital marketing industry.
Excited to join our Advance SEO Course?
Many of the institutes are offering SEO courses and it becomes very confusing while choosing the best out of them. Look for a course that offers comprehensive and up-to-date content. A good SEO course should cover essential topics such as SEO audit, keyword research, on-page optimization, off-page optimization, link building, local SEO, and technical SEO. It should also include practical exercises and case studies to help you apply what you learn.
At DigiSkolae, we are offering an in-depth SEO course where you will learn the different techniques of SEO while working on live projects. Our Advance SEO course comes with guaranteed Internship & Placement.
The duration of our Search Engine Optimization course in lucknow is 6 weeks. In these 6 weeks, you will be learning different SEO techniques while working on live projects. 
Want to know more about Digital Marketing?
No doubt, SEO is one of the most important part of Digital Marketing but there are many more skills you can learn. You can also check our Career Oriented Professional Program in Digital Marketing. It is an Advance level Digital Marketing Course with 60+ Modules.