Join the Finest and In-depth Digital Marketing Course in Lucknow 2023
Upgrade your skills with DigiSkolae's Digital Marketing Course.
DigiSkolae now offers a highly valued Certificate in Digital Marketing by Alcheringa, IIT Guwahati, in association with HODM. 
We offer Live Classroom Digital Marketing Training and Live Online Classes as well.
Get the Finest Digital Marketing Course in Lucknow!
Join now to access both Core and Advanced modules, and unlock Career opportunities in just 5 months.
Why People Recommend DigiSkolae
At DigiSkolae, our acclaimed Professional Program In Digital Marketing Course sets us apart as a reliable destination for top-notch digital marketing education. We take immense pride in being the trusted choice among the students for pursuing Career oriented Digital Marketing Course in Lucknow, and there are several reasons why people recommend us. Our institute, nestled in the heart of Lucknow, stands out for its personalized approach and commitment to nurturing students who want to pursue their Career in Digital Marketing.
What truly sets us apart is our experienced team, having a collective experience of 25 years. This team isn't just a group of instructors, they are mentors who have guided countless students towards achieving their career goals. Our track record speaks volumes, we've positively impacted the lives of thousands, helping them carve their paths in the dynamic world of digital marketing.
When you choose Digiskolae, you're not simply enrolling in a Digital Marketing course, you're embarking on a journey of growth and success. Our student-centric philosophy, industry-relevant curriculum, and hands-on learning approach ensure that each individual receives in-depth and practical training.
Key Benefits of Joining DigiSkolae
Flagship Digital Marketing Courses DigiSkolae Offers to You
Digiskolae offers Basic to Advance level Digital Marketing Certificate courses. Our courses are designed to cater to the needs of everyone. These include-
Professional Program in Digital Marketing Course
5 Months In-depth Training | 3 Months Mandatory Internship during Course duration | 100% Placement Guarantee
Executive Program in Digital Marketing Course
3 Months Organic Marketing Training | Guaranteed Internship and Placement assistance | 8+ Certifications
Advance SEO & Analytics Course
45 Days Practical Training | Hands-on Practice on Live Training | Guaranteed Internship & Placement Assistance
Advance Social Media Marketing Course
30 days Project Oriented Training | Work on Live Projects | Guaranteed Internship & Placement Assistance
Explore Lucknow's Best Digital Marketing Course
Professional Program in Digital Marketing course is one of the most updated and in-depth course in digital marketing. It covers more than 60+ advanced topics in digital marketing, starting from the basics and going to the advanced topics. In this course, you'll learn about things like making cool graphics, creating websites, advanced ways to make your website show up on search engines by using SEO techniques, sending Marketing Emails using different tools, using Google Ads, making the most of Social Media, both the free parts and the ads you pay for, creating Content that sells, Affiliate Marketing, freelancing, and many other topics.
This course is designed to teach you what companies are looking for. You'll start with the basics and go all the way to the advanced strategies used in digital marketing. After completing the PPDM course you will be awarded multiple certifications including a highly valued Certificate in Digital Marketing Course from HODM in collaboration with Alcheringa, IIT Guwahati & a certificate in Search Engine Marketing Executive by a Government organization.  
PPDM course includes mid-course Internship in digital marketing. This means you'll get some real-world experience while you're learning. Following are the course curriculum details –
Upgrade Your Digital Marketing Skills with Exclusive Masterclasses!
Apart from our regular Digital Marketing training we also conduct exclusive Digital Marketing Masterclasses. These Masterclasses are typically led by experts in their field, allowing our students to learn from some of the best in the industry. Through our exclusive masterclasses, our Digital Marketing Course students get the opportunity to enhance their skills and gain new techniques and knowledge that professionals use.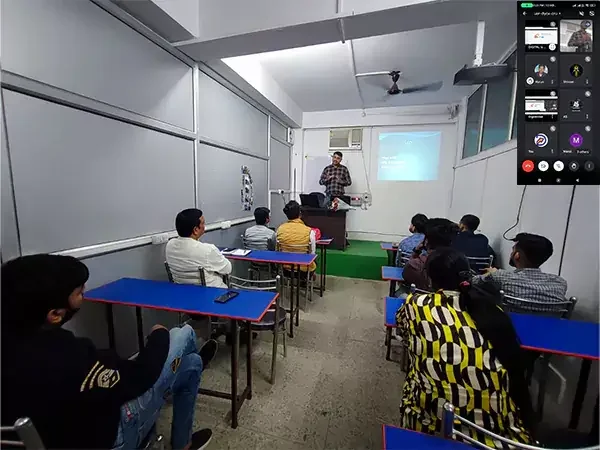 Who can Learn Digital Marketing
STUDENTS
Learning digital marketing can be incredibly beneficial for students. In today's connected world, understanding how to promote products and ideas online is like having a superpower. It opens doors to various career paths and part-time gigs. From social media and email campaigns to SEO tricks, digital marketing skills make you stand out to employers. You can start your career with a Job and Freelancing as well. Even if you're not a tech wizard, the basics are easy to grasp.
PROFESSIONALS
Learning digital marketing offers professionals a dynamic path for career growth. Think of it as a turbocharger for your career engine in today's digital landscape. By mastering digital marketing, you gain the ability to connect with a wider audience and elevate your brand's visibility. You can take a decent leap in your profile or can start freelancing along with your present profession. Whether you're a veteran or a beginner, embracing digital marketing can unlock doors to career success you never knew existed.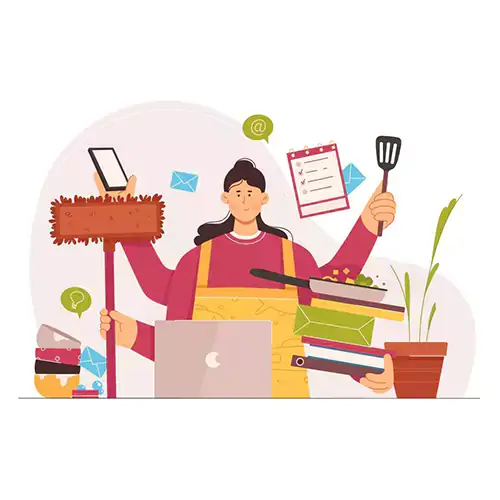 HOUSESWIFE'S
For homemakers, learning digital marketing can brings a variety of benefits. Imagine it as a tool that adds wings to your talents. Learning digital marketing lets you explore home-based earning opportunities through Full time job or Freelancing. With a grasp of basics like social media posting, Search Engine Optimization and online communication, you're all set. So, whether you're a tech novice or familiar, embracing digital marketing can empower you to transform your skills into a rewarding online Careers.
At DigiSkolae, we are committed to providing high-quality Digital Marketing Training to all of our students. We believe that our students are the best judges of our success, and that's why we're proud to feature testimonials from some of our students of our Advance Digital Marketing Course.
Here's what our students have to say about their experiences at DigiSkolae
Why Digital Marketing is Today's Best Career Option
The Pandemic has introduced us to a Digital Revolution. Every small and big business entity is taking the digital path to grow their business. The only mantra today is "Go Digital to be Sustainable".
With this enormously increasing demand across the Globe, there is a huge surge for Skilled Digital Marketers. Digital Marketing has become the most lucrative career choice as it can provide you with a high paying JOB along with a platform to sit in the comfort of home while conveniently handling international clients.
With DigiSkolae, we help you get the best Digital Marketing Training & Certifications which would lead you to grab the highest paying Digital Marketing Jobs.   With our Advance Digital Marketing Course, you can be an expert in online platforms like Social Media (Facebook, Instagram, LinkedIn etc.), Search Engines (Google, Bing etc.), Email Marketing, Affiliate Marketing, Content Marketing and so on.
Become a Skilled Digital Marketer, Join DigiSkolae's Advance Digital Marketing Course and start your career in next 5 months
Digital Marketing Career Begins With Us
We, at DigiSkolae, offer supportive and inspirational environments for young minds to learn Digital Marketing and grow with us. Our passionate and dedicated team of Mentors ensures proper practical learning for every student. With our Advance Digital Marketing Course, we strive to build confident and creative Digital marketers. With the Motto of "CAREER STARTS HERE", we aim to deliver an education that is genuinely relevant to their future Career.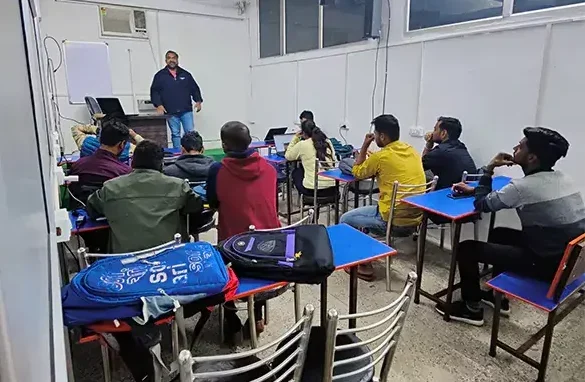 Opening Doors to Career Opportunities: How Digiskolae Remarkably Helps Students Land Job Placements
In today's fast-paced and competitive job market, students are on the lookout for that extra edge that can land them promising career placements. This is where Digiskolae steps in, offering a one-of-a-kind approach that not only enhances learning but significantly boosts the chances of getting placed in top-notch companies.
Gone are the days when education was confined to dull textbooks and monotonous classrooms. Digiskolae has fully embraced the digital revolution, turning it into a powerful tool that provides students with an engaging and interactive learning journey. But what truly sets Digiskolae apart is its unwavering commitment to turning learning into real-world achievements.
So, you might wonder, how exactly does Digiskolae contribute to students placement success? Let's dive in –
Stories of Triumph - Our Recently Placed Students
Perhaps the most heartening part is the success stories that emerge from the Digiskolae community. Our placed students have gone on to successful careers in Digital Marketing after completing our comprehensive Digital Marketing Courses in Lucknow. They have secured positions at leading companies in a variety of industries, using their Digital skills to drive online growth and engage with customers in new ways. Our graduates are excelling in roles such as SEO Executives, Social Media managers, Content Marketers, Digital Advertising Specialists, etc. utilizing their knowledge of SEO, PPC, Analytics, Social Media, etc. to achieve measurable results for their employers. We are proud to have played a role in launching their careers and look forward to following their continued success in the Digital Marketing field.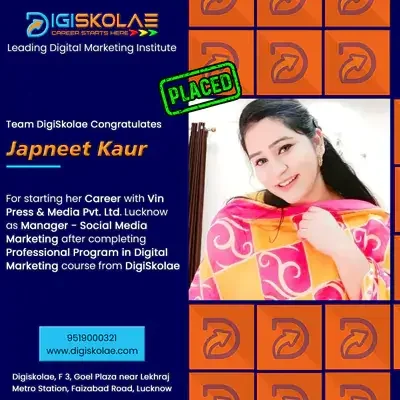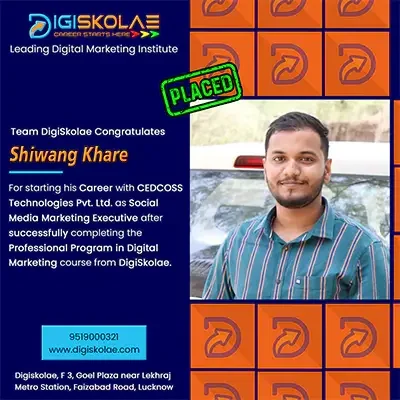 Why Choose Us As Your Preferred Digital Marketing Institute
One more reason to join DigiSkolae's Digital Marketing Course in Lucknow
100% Money Back Guarantee 
If you are not satisfied with our Digital Marketing Training, we will refund your course fee
Digital Marketing Course Fee & Offers
At DigiSkolae, we're committed to making digital marketing education accessible to all. That's why we've structured our course fees to be affordable and considerate of everyone's budget. We understand that people from various walks of life want to learn about digital marketing, and we believe that financial constraints should never stand in the way of gaining valuable skills. Our course fees range from 7500/- to 45000/- depending upon the level of course you want to join. Rest assured, our digital marketing course fees in Lucknow have been designed with you in mind, ensuring that quality education in digital marketing is within reach for everyone. We often run Scholarship program time to time. Connect with our Career coach and ask if there is any at present.
Now you can pay the course fee of PPDM – our flagship Digital Marketing Course in 8 interest free EMIs (conditions apply).
Diverse Payment Options for Digital Marketing Course Fees
Paying Course Fees for the Digital Marketing Course in Lucknow is easy. You can use different methods like UPI, Cash, Cheque, or bank transfer. Choose the way that works best for you and start your journey toward mastering digital marketing.
How To Reach DigiSkolae ?
Getting to DigiSkolae is easy! We're located on Goel Plaza, F 3, Faizabad Rd, near Lekhraj Metro Station, Indira Nagar, Lucknow, Uttar Pradesh 226016, which means you can easily reach us from different parts of the city like Alambagh, Rajajipuram, Charbagh, Hazratganj, Aminabad, Munshi Pulia, Chowk, Vikas Nagar, Aliganj, and Gomti Nagar. If you're familiar with the metro, you're in luck, we're just a short 100-meter walk from Lekhraj Metro station. And don't worry if you prefer other modes of transport – you have options, you can hop on a bus, catch a tempo, take the metro, or use your own private vehicle to come to our institute. It's really that convenient, so, no matter where you're coming from, reaching DigiSkolae is a breeze. We can't wait to welcome you and help you learn about Digital Marketing.
We inspire our students to dream more, learn more, do more, and become more in making their Digital Marketing Career.
Want to know more about the Digital Marketing Course, Career, Fees & Curriculum?